Other tools
Regional AIS server
A regional AIS server represents an opportunity  to link countries together in the spirit of cooperation for improving the safety of navigation, maritime safety and security, preventing oil spill pollution, etc.  
The AIS data exchanged can be integrated and fused with the AIS feed from other member countries and displayed on a WUI (Web User Interface) providing a combined operational picture (COP).
The technical commitment will consist of a proxy (software) and a computer to be connected to the AIS national servers in the respective countries.
The exchange of data is performed in a secure and reliable way to ensure that only authorised users are able to access the COP and raw data.
Each participating country (and internal agencies designated by the country) can log on with individual accounts, allowing the possibility of managing the exchange of information throughout a dedicated "distribution plan" and a matrix of users. This can assist when formulating agreements with countries, and can enable the exchange of national data even in a bilateral context between 2 countries.
Technical factsheet of AIS server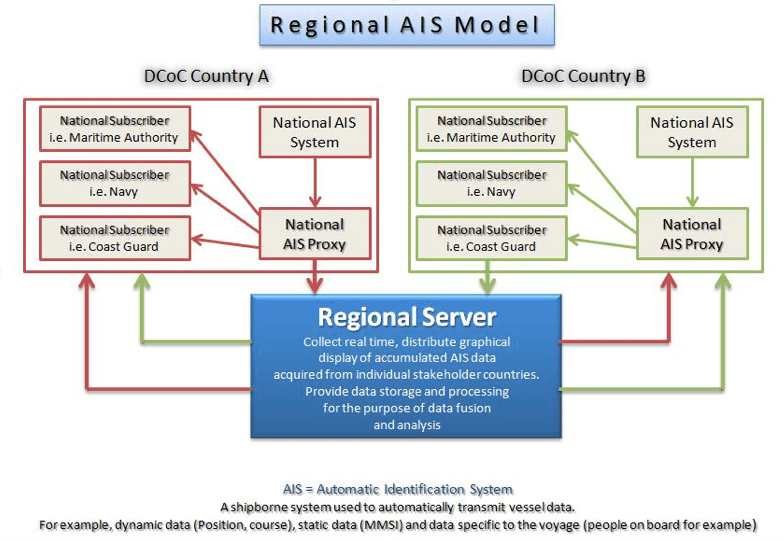 Voice over IP
Objective is to provide a free voice call facility for each of the regional countries to communicate between nominated maritime centres. (Calls will only be permitted to/from authorised users, not public access).
Voice Over IP (VoIP) will require an internet connection of suitable bandwidth to work, however the calls will be direct dial (no operator connection required) with no local subscription cost.
EU CRIMARIO is working with Kenya Maritime Authority (KMA) to enhance the existing VoIP network initiated with the 3 ISCs during the EU MARSIC project in 2013.
EU CRIMARIO will provide maintenance & support including enhanced internet provision for KMA if required for minimum the first 2 years.
Handsets: Subject to availability and local regulations; handsets will be locally procured and configuration instructions provided by the contractor.
The setting up will be done after launching a public tender for purchasing the equipment. Implementation will be planned for the first quarter 2017.